Gandalf's Win10PE x64 Redstone
Gandalf's Win10PE x64 Redstone Build 14393 Version 10-24-2016
Englisch // Bootable ISO disk Windows 10 PE // 24.10.2016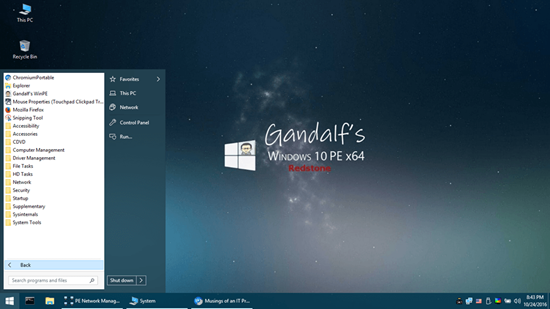 Beschreibung:
This is my updated release of my Windows 10PE x64 Redstone release build 14393 version 10-24-2016.
As with the previous version this provides support for running 32bit programs (WoW64).
The apps listed below are included in this build.
Beschreibung / Inhalt:
Code:
[2BrightSparks]
[7-Zip_x64]
[Acronis]
[ActivePartitionManager5_x64]
[Advanced Renamer 3.72]
[Aida64 Engineer]
[Amigabit Data Recovery Enterprise 2.0.7.0]
[Ammyy_Admin_v34]
[AOMEI Partition Assistant Technician Edition 6.0 Portable]
[ASC_Portable]
[assembly]
[ATTO_Disk_Benchmark]
[AttributeChanger_x64]
[AusLogicsDiskDefrag]
[BootIce_Pauly]
[Bulk Rename Utility]
[CCleanerTechnicianPortable]
[Chkdskgui]
[ChromiumPortable]
[ClamWinPortable]
[Cpu-Z_x64]
[CrystalCPUID]
[Defraggler 2.21.993 Professional (x86-x64)]
[Defraggler_Piriform_x64]
[desktop_clock_plus-7_Prg]
[Directory List and Print Pro 3.07]
[DiskCryptor_x64]
[Dism Gui 4]
[Double Driver]
[DriveImageXML_PE]
[DtSearch Desktop Engine 7.84.8392 (64-bit)]
[Duplicate File Detective Pro (64-bit)]
[EasyBCD]
[EasyRecoveryPortable]
[EF Commander (64-bit)]
[ExamDiff Pro Master (64-bit)]
[FolderSizes 8.2.137 Enterprise (64-bit)]
[FreeVK]
[FSViewer55]
[Ghost]
[GPU-Z]
[GSmartControl]
[HijackThis]
[HWInfo_x64]
[HWMonitor_CPUID]
[ImgBurn]
[IrfanViewPortable]
[iSwitcher]
[Macrium Reflect 6.1.1311 Technician's USB]
[MagicJellyBeanKeyfinder]
[Microsoft.NET]
[Mozilla Firefox]
[Mpc-hc_x64]
[MWSnap]
[MyDefrag_x64]
[MyLanViewer_Portable]
[Mythicsoft]
[NirSoft_ServiWin_x64]
[Norton Ghost 12 + Ghost Explorer 2013 (x32-x64) Portable [ENDO]]
[NotePad_PP]
[NTPWEdit]
[Partition Find and Mount]
[PartitionGuru_Free_x64]
[PartitionWizard_Free_x64]
[ProduKey_Nirsoft_x64]
[Q-Dir_x64]
[R-Drive Image 6.0 build 6012 Technician (x86-x64)]
[Recover Keys]
[Recuva]
[Reference Assemblies]
[Reference Assemblies (x86)]
[Rufus]
[Snapshot_x64]
[SumatraPDF_x64]
[SUPERAntiSpyware]
[Syncovery Pro Enterprise 7.51 (64-bit)]
[Sysinternals_Suite]
[teamviewer]
[TreeSize Professional (32-bit)]
[UltraISO]
[Unlocker_x64]
[Virtual_Magnifying_Glass_Portable_paf]
[vlc-2.2.2]
[VNC Real]
[VNC Viewer]
[WakeOnLanGui]
[WinMerge2]
[WinNC 6.2]
[WinNTSetup3]
[WinRAR_x64]
[WinToolkit]
[WinUtilities Professional Edition 12.5]
[WiresharkPortable]
[Wise Data Recovery]
[WNetWatcher_NirSoft]


Hoster:
Uploaded
Größe
2,71 GB (RAR/ISO)
Sprache
Englisch
Plattform
Microsoft Windows Vista/7/8/8.1/10 (32 oder 64-Bit)
Parts: 14


Download via Uploaded.net (Share-Links)
oooooooooooooooooooooo
Download via Uploaded.net (Relink)
Related News:
Views: 1926 .
MangoMongo
0
Author