[3DS] MegaThread 3DS & eShop Roms converted to CIA Format
3DS & eShop Roms converted to CIA Format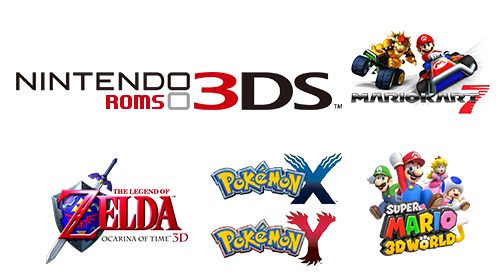 NFO, Language, of roms Look here:
ADVANsCEne

PASSWORD TO DOWNLOAD
AlvRo

Notes:
These are in .CIA Format.
This is for Gateway and/or CFW users running 9.x Firmware.
Some of the newer games may require firmware >9.5 to run.
If you get stuck at the loading screen, or receive a "SD Card Has Been Removed" message, that means it needs higher firmware than what you have.
There may be a few titles that did not accept the RegionFree Patch.
If you loaded a title and it doesn't show on the Main Screen, you will need to run either FreeMultiPatcher or YGWFreeRegion to use them.
For testing I used a N3DS running 9.0.0-20U firmware and both a Gateway and ReiNand with a emuNand at 9.5.0-23U
3DS Simple CIA Converter v4.3 was used to create this collection.
It is HIGHLY recommended that you only use these CIA files if you know EXACTLY what you are doing and do so ONLY in an emuNand.

INDEX
eShop Roms converted to CIA Format
(624 - 64.98 GB)
Code:
0001 - HarmoKnight (Europe) (En,Fr,De,Es,It) (eShop)
0002 - Phoenix Wright - Ace Attorney - Dual Destinies (Europe) (eShop)
0003 - Poke Transporter (World) (En,Ja,Fr,De,Es,It,Ko) (eShop)
0004 - Pokemon Bank (World) (En,Ja,Fr,De,Es,It,Ko) (eShop)
0005 - Pokemon X - Update 1.2 (World) (En,Ja,Fr,De,Es,It,Ko)
0006 - Pokemon Y - Update 1.2 (World) (En,Ja,Fr,De,Es,It,Ko)
0007 - Monster Hunter 3 Ultimate Data Transfer Program (Europe) (En,Fr,De,Es,It) (eShop)
0008 - Mutant Mudds (Europe) (Demo) (eShop)
0009 - Nintendo Letter Box (Europe) (En,Fr,De,Es,It,Nl,Pt,Ru) (eShop)
0011 - Super Mario Bros. Deluxe (Europe) (GBC) (Virtual Console, CIA)
0012 - YouTube (Europe) (En,Fr,De,Es,It,Pt,Ru) (eShop)
0013 - Adventure Time - Explore the Dungeon Because I DON'T KNOW! - Update 1.1 (Europe)
0014 - LEGO Legends of Chima - Laval's Journey - Update 1.1 (Europe)
0015 - Mario & Luigi - Dream Team Bros. - Update 1.1 (Europe) (En,Fr,De,Es,It,Nl,Pt,Ru)
0016 - Mario Kart 7 - Update 1.1 (Europe) (En,Fr,De,Es,It,Nl,Pt,Ru)
0017 - New Style Boutique - Update 1.1 (Europe) (En,Fr,De,Es,It)
0018 - Secret Mysteries in London - Update 1.1 (Europe) (En,Fr,De,Nl)
0019 - Shin Megami Tensei - Devil Survivor Overclocked - Update 1.1 (Europe)
0020 - Steel Diver - Update 1.1 (Europe) (En,Fr,De,Es,It)
0021 - LEGO Movie Videogame, The - Update 1.1 (Europe) (En,Fr,Es,It,Nl,Da)
0022 - Super Mario Bros. Deluxe (Europe) (GBC) (Virtual Console)
0023 - Bird Mania 3D (Europe) (En,Fr,De,Es,It) (eShop)
0024 - Liberation Maiden (Europe) (eShop)
0025 - Legend of Zelda, The (Europe) (NES) (Virtual Console)
0026 - Legend of Zelda, The - Link's Awakening (Europe) (GBC) (Virtual Console)
0027 - Pokemon Link - Battle! (Europe) (En,Fr,De,Es,It) (eShop)
0028 - Pullblox (Europe) (En,Fr,De,Es,It) (eShop)
0029 - Steel Diver - Sub Wars (Europe) (En,Fr,De,Es,It) (eShop)
0030 - Weapon Shop de Omasse (Europe) (eShop)
0031 - Pyramids (Europe) (En,Fr,De,Es,It,Nl) (Proto) (eShop)
0032 - Gunman Clive (Europe) (eShop)
0033 - Pokemon Dream Radar (Europe) (En,Ja,Fr,De,Es,It,Ko) (eShop)
0034 - Edge (Europe) (En,Fr,De,Es,It,Nl,Pt) (eShop)
0035 - Cave Story (Europe) (eShop)
0036 - Steamworld Dig (Europe) (eShop)
0037 - Nintendo Pocket Football Club (Europe) (En,Fr,De,Es,It) (eShop)
0038 - Super Mario Bros. 3 (Europe) (NES) (Virtual Console)
0039 - Fractured Soul (Europe) (En,Fr,De,Es,It) (eShop)
0040 - Pokedex 3D (USA) (En,Fr,Es) (eShop)
0041 - Ambassador Certificate (USA) (En,Fr,Es,Pt) (eShop)
0042 - Ice Climber (USA) (Rev 1) (NES) (Virtual Console)
0043 - Wrecking Crew (USA) (Rev 1) (NES) (Virtual Console)
0044 - Balloon Fight (USA) (Rev 1) (NES) (Virtual Console)
0045 - Donkey Kong Jr. (USA) (Rev 1) (NES) (Virtual Console)
0046 - Metroid (USA) (Rev 2) (NES) (Virtual Console)
0047 - NES Open Tournament Golf (USA) (Rev 1) (NES) (Virtual Console)
0048 - Super Mario Bros. (USA) (Rev 2) (NES) (Virtual Console)
0049 - Legend of Zelda, The (USA) (Rev 1) (NES) (Virtual Console)
0050 - Yoshi (USA) (Rev 1) (NES) (Virtual Console)
0051 - Zelda II - The Adventure of Link (USA) (Rev 1) (NES) (Virtual Console)
0052 - F-Zero - Maximum Velocity (USA) (GBA) (Virtual Console)
0053 - Fire Emblem - The Sacred Stones (USA) (GBA) (Virtual Console)
0054 - Kirby & the Amazing Mirror (USA) (GBA) (Virtual Console)
0055 - Yoshi's Island - Super Mario Advance 3 (USA) (GBA) (Virtual Console)
0056 - Mario Kart - Super Circuit (USA) (GBA) (Virtual Console)
0057 - WarioWare, Inc. - Mega Microgame$! (USA) (GBA) (Virtual Console)
0058 - Legend of Zelda, The - The Minish Cap (USA) (GBA) (Virtual Console)
0059 - Wario Land 4 (USA) (GBA) (Virtual Console)
0060 - Metroid Fusion (USA) (GBA) (Virtual Console)
0061 - Mario vs. Donkey Kong (USA) (GBA) (Virtual Console)
0062 - Nintendo Video (USA) (En,Fr,Es) (eShop)
0063 - Netflix (USA) (Rev 1) (eShop)
0064 - F-Zero for Game Boy Advance (Japan) (GBA) (Virtual Console)
0065 - Fire Emblem - Seima no Kouseki (Japan) (GBA) (Virtual Console)
0066 - Hoshi no Kirby - Kagami no Daimeikyuu (Japan) (GBA) (Virtual Console)
0067 - Made in Wario (Japan) (GBA) (Virtual Console)
0068 - Mario Kart Advance (Japan) (GBA) (Virtual Console)
0069 - Mario vs. Donkey Kong (Japan) (GBA) (Virtual Console)
0070 - Metroid Fusion (Japan) (GBA) (Virtual Console)
0071 - Super Mario Advance 3 - Yoshi's Island + Mario Brothers (Japan) (GBA) (Virtual Console)
0072 - Wario Land Advance - Youki no Otakara (Japan) (GBA) (Virtual Console)
0073 - Zelda no Densetsu - Fushigi no Boushi (Japan) (GBA) (Virtual Console)
0074 - Sonic the Hedgehog 2 (Europe) (GG) (Virtual Console)
0075 - 3D Shinobi III - Return of the Ninja Master (Europe) (eShop)
0076 - VVVVVV (Europe) (Rev 1) (eShop)
0077 - Super Smash Bros. Special Demo Version (USA) (En,Fr,Es) (eShop)
0078 - Super Smash Bros. Special Demo Version (Europe) (En,Fr,De,Es,It,Nl,Pt,Ru) (eShop)
0079 - New Super Mario Bros. 2 (Europe) (En,Fr,De,Es,It,Nl,Pt,Ru) (eShop)
0080 - New Super Mario Bros. 2 (Europe) (En,Fr,De,Es,It,Nl,Pt,Ru) (DLC)
0081 - Crimson Shroud (USA) (eShop)
0082 - Azure Striker Gunvolt (USA) (eShop)
0083 - Mighty Gunvolt (USA) (eShop)
0084 - Moon Chronicles (USA) (eShop)
0085 - Shovel Knight (USA) (eShop)
0086 - Rusty's Real Deal Baseball (USA) (En,Fr,Es) (eShop)
0087 - 3D Classics - Kirby's Adventure (Europe) (eShop)
0088 - 3D Classics - Kid Icarus (Europe) (eShop)
0089 - Splash or Crash (Europe) (eShop)
0090 - 3D Classics - TwinBee (USA) (eShop)
0091 - Crashmo (USA) (eShop)
0092 - Demon King Box (USA) (eShop)
0093 - Mighty Switch Force! (USA) (eShop)
0094 - Mighty Switch Force! 2 (USA) (eShop)
0095 - THE DENPA MEN - They Came By Wave (USA) (eShop)
0096 - THE DENPA MEN 2 - Beyond the Waves (USA) (eShop)
0097 - THE DENPA MEN 3 - The Rise of Digitoll (USA) (eShop)
0098 - 10-in-1 - Arcade Collection (USA) (eShop)
0099 - 3D Galaxy Force II (USA) (En,Fr,Es) (eShop)
0100 - Bird Mania Christmas 3D (USA) (eShop)
0101 - Colors! 3D (USA) (En,Fr,Es,Pt) (eShop)
0102 - Ketzal's Corridors (USA) (eShop)
0103 - Kirby Fighters Deluxe (USA) (En,Fr,Es) (eShop)
0104 - Photos with Mario (USA) (En,Fr,Es) (eShop)
0105 - Mutant Mudds (USA) (eShop)
0106 - Picdun 2 - Witch's Curse (USA) (eShop)
0107 - PIX3D (USA) (eShop)
0108 - Retro City Rampage - DX (USA) (En,Fr,Es) (eShop)
0109 - SkyPeace (USA) (eShop)
0110 - SpeedX 3D Hyper Edition (USA) (eShop)
0111 - Tappingo 2 (USA) (eShop)
0112 - Picross e4 (USA) (eShop)
0113 - Bomb Monkey (USA) (eShop)
0114 - Pyramids (USA) (eShop)
0115 - Fun! Fun! Minigolf Touch! (USA) (eShop)
0116 - Let's Golf 3D (USA) (eShop)
0117 - Pokemon Omega Ruby and Alpha Sapphire - Special Demo Version (Europe) (En,Ja,Fr,De,Es,It,Ko) (eShop)
0118 - Pushmo (USA) (eShop)
0119 - Pokedex 3D Pro (USA) (En,Ja,Fr,De,Es,It,Ko) (eShop)
0120 - Ugoku Memo Chou 3D (Japan) (eShop)
0121 - Shantae and the Pirate's Curse (USA) (En,Fr,Es) (eShop)
0122 - Pyramids 2 (USA) (En,Fr,Es) (eShop)
0123 - Sakura Samurai - Art of the Sword (USA) (eShop)
0124 - KORG DSN 12 (USA) (En,Fr,Es,Pt) (eShop)
0125 - Dillon's Rolling Western (USA) (eShop)
0126 - Color Zen (USA) (eShop)
0127 - 3D Classics - Kid Icarus (USA) (eShop)
0128 - Zen Pinball (USA) (En,Fr,Es) (eShop)
0129 - Legend of Dark Witch, The (USA) (eShop)
0130 - Thorium Wars - Attack of the Skyfighter (USA) (eShop)
0131 - Zombie Panic in Wonderland DX (USA) (En,Fr,Es) (eShop)
0132 - 3D Sonic the Hedgehog (USA) (eShop)
0133 - Attack of the Friday Monsters! A Tokyo Tale (USA) (eShop)
0134 - Art of Balance TOUCH! (USA) (eShop)
0135 - 3D Streets of Rage (USA) (En,Fr,Es) (eShop)
0136 - escapeVektor (USA) (eShop)
0137 - Inazuma Eleven (USA) (En,Fr,Es) (eShop)
0138 - Nano Assault EX (USA) (En,Fr,Es) (eShop)
0139 - Pikmin Short Movies 3D (USA) (En,Fr,Es) (eShop)
0140 - Woah Dave! (USA) (eShop)
0141 - Keep, The (USA) (En,Fr,Es,Pt) (eShop)
0142 - Mario and Donkey Kong - Minis on the Move (USA) (eShop)
0143 - 3D Classics - Xevious (USA) (eShop)
0144 - Ninja Battle Heroes (USA) (eShop)
0145 - BlazBlue - Clone Phantasma (USA) (eShop)
0146 - KemonoMix Plus (USA) (eShop)
0147 - NightSky (USA) (eShop)
0148 - Rage of the Gladiator (USA) (eShop)
0149 - Super Little Acorns 3D Turbo (USA) (eShop)
0150 - Siesta Fiesta (USA) (eShop)
0151 - Kokuga (USA) (eShop)
0152 - Fluidity - Spin Cycle (USA) (eShop)
0153 - Hulu Plus (USA) (eShop)
0154 - Monster Hunter 3 Ultimate Data Transfer Program (USA) (En,Fr,Es) (eShop)
0157 - Steel Diver - Sub Wars (USA) (En,Fr,Es) (eShop)
0158 - Swapnote (USA) (En,Fr,Es,Pt) (eShop)
0159 - Tomodachi Life - Move-In Version (USA) (eShop)
0160 - Youtube (USA) (En,Fr,De,Es,It,Nl,Pt,Ru) (eShop)
0162 - Picross e5 (USA) (En,Fr,Es) (eShop)
0163 - 3D Classics - Excitebike (USA) (eShop)
0164 - Mysterious Murasame Castle, The (Europe) (NES) (Virtual Console)
0165 - Shovel Knight (Europe) (eShop)
0166 - Puchikon No. 3 SmileBASIC (Japan) (eShop)
0167 - Picross e3 (Europe) (En,Fr,De,Es,It) (eShop)
0168 - Keep, The (Europe) (En,Fr,De,Es,It) (eShop)
0169 - Alien Chaos 3D (Europe) (En,Fr,De,Es,It) (eShop)
0170 - Another World - 20th Anniversary Edition (Europe) (En,Fr,De,Es,It) (eShop)
0171 - Mario and Donkey Kong - Minis on the Move (Europe) (En,Fr,De,Es,It) (eShop)
0172 - Picross e2 (Europe) (En,Fr,De,Es,It) (eShop)
0173 - Attack of the Friday Monsters! A Tokyo Tale (Europe) (eShop)
0174 - Crimson Shroud (Europe) (eShop)
0175 - Castle Conqueror EX (Europe) (eShop)
0176 - Pick-A-Gem (Europe) (eShop)
0177 - Crazy Chicken - Director's Cut 3D (Europe) (En,Fr,De,Es,It) (eShop)
0178 - Picross e (Europe) (En,Fr,De,Es,It) (eShop)
0179 - Urban Trial Freestyle (Europe) (En,Fr,De,Es,It) (eShop)
0180 - Sayonara Umihara Kawase (Europe) (eShop)
0181 - Bloody Vampire (Europe) (eShop)
0182 - Retro City Rampage - DX (Europe) (En,Fr,De,Es,It) (eShop)
0183 - Talking Phrasebook (Europe) (En,Fr,De,Es,It,Nl,Pt) (eShop)
0184 - Breakthru Films - Fat Hamster (Europe) (eShop) (Video)
0185 - Breakthru Films - Little Postman (Europe) (eShop) (Video)
0186 - Breakthru Films - Magical Dance (Europe) (eShop) (Video)
0187 - Breakthru Films - Papa's Boy (Europe) (eShop) (Video)
0188 - Breakthru Films - Scarecrow (Europe) (eShop) (Video)
0189 - Breakthru Films - Spirits of the Piano (Europe) (eShop) (Video)
0190 - Breakthru Films - Transformation (Europe) (eShop) (Video)
0191 - Shaun the Sheep - Episode 1 - 5 (Europe) (eShop) (Video)
0192 - Shaun the Sheep - Episode 11 - 15 (Europe) (eShop) (Video)
0193 - Shaun the Sheep - Episode 6 - 10 (Europe) (eShop) (Video)
0194 - Shaun the Sheep - Episode 1 - 15 + Making Of (Europe) (eShop) (Video)
0195 - 3D Machine, The (Europe) (eShop) (Video)
0196 - 3D Machine Series - Episode 1, The (Europe) (eShop) (Video)
0197 - 3D Machine Series - Episode 2, The (Europe) (eShop) (Video)
0198 - 3D Machine Series - Episode 3, The (Europe) (eShop) (Video)
0199 - 3D Machine Series - Episode 4, The (Europe) (eShop) (Video)
0200 - 3D Machine Series - Episode 5, The (Europe) (eShop) (Video)
0201 - Beet Party - Episode 1 - Beet Poets, The (Europe) (eShop) (Video)
0202 - Beet Party - Episode 2 - Beet Scratch, The (Europe) (eShop) (Video)
0203 - Beet Party - Episode 3 - Jurassic Fridge, The (Europe) (eShop) (Video)
0204 - Beet Party - Episode 4 - UnderWaterMelon, The (Europe) (eShop) (Video)
0205 - Beet Party - Episode 5 - Unidentified Flying Waffle, The (Europe) (eShop) (Video)
0206 - Beet Party - Episode 6 - Call Me Aneek Neek, The (Europe) (eShop) (Video)
0207 - Incredible Barbazan - Episode 1 - The Cabinet of Fear, The (Europe) (eShop) (Video)
0208 - Incredible Barbazan - Episode 2 - The Fire Juggler, The (Europe) (eShop) (Video)
0209 - Incredible Barbazan - Episode 3 - The Human Cannonball 2, The (Europe) (eShop) (Video)
0210 - Incredible Barbazan - Episode 4 - The Knife Thrower, The (Europe) (eShop) (Video)
0211 - Incredible Barbazan - Episode 5 - Raging Bull, The (Europe) (eShop) (Video)
0212 - Incredible Barbazan - Episode 6 - Up Your Sleeve, The (Europe) (eShop) (Video)
0213 - Treasures of the World (Barcelona, Paris, Rome) (Europe) (eShop) (Video)
0214 - 3D Sonic the Hedgehog (Europe) (eShop)
0215 - Jett Rocket II - The Wrath of Taikai (Europe) (En,Fr,De,Es) (eShop)
0216 - My First Songs (USA) (eShop)
0217 - 2048 (Europe) (En,Fr,De,Es,It) (eShop)
0218 - 3D Altered Beast (USA) (eShop)
0219 - 3D Classics Urban Champion (USA) (eShop)
0220 - 3D Ecco the Dolphin (USA) (eShop)
0221 - 3D Space Harrier (USA) (eShop)
0222 - 3D Super Hang-On (USA) (eShop)
0223 - Ikachan (USA) (eShop)
0224 - Super Mario Bros. 2 (USA) (NES) (Virtual Console)
0225 - Super Mario Bros. - The Lost Levels (USA) (NES) (Virtual Console)
0226 - Toy Stunt Bike (Europe) (eShop)
0227 - Aero Porter (USA) (eShop)
0228 - Battleminer (USA) (eShop)
0229 - Dedede's Drum Dash Deluxe (USA) (eShop)
0230 - Squids Odyssey (USA) (eShop)
0231 - Quell Reflect (USA) (eShop)
0232 - 1001 Spikes (USA) (eShop)
0233 - Cubit - The Hardcore Platformer Robot (USA) (eShop)
0234 - Chain Blaster (USA) (eShop)
0235 - Family Bowling 3D (USA) (eShop)
0236 - Marvel Pinball 3D (USA) (eShop)
0237 - Bike Rider DX2 - Galaxy (USA) (eShop)
0238 - Alien on the Run (USA) (eShop)
0239 - Mahjong 3D - Essentials (USA) (eShop)
0240 - Bike Rider DX (USA) (eShop)
0241 - SpeedX 3D (USA) (eShop)
0242 - Phoenix Wright - Ace Attorney Trilogy (Europe) (eShop)
0243 - Fairune (Europe) (eShop)
0244 - Hazumi (USA) (eShop)
0245 - Scarygirl Illustration Kit (USA) (eShop)
0246 - Smash Cat Heroes (USA) (eShop)
0247 - Star Wars Pinball (USA) (En,Fr,Es) (eShop)
0248 - Witch and Hero (Europe) (eShop)
0249 - Xeodrifter (USA) (eShop)
0250 - AeternoBlade (Europe) (eShop)
0251 - Mega Man II (USA) (GB) (Virtual Console)
0252 - Mega Man III (USA) (GB) (Virtual Console)
0253 - Mega Man IV (USA) (GB) (Virtual Console)
0254 - Mega Man V (USA) (GB) (Virtual Console)
0255 - Mega Man VI (USA) (NES) (Virtual Console)
0256 - Mega Man - Dr. Wily's Revenge (USA) (GB) (Virtual Console)
0257 - Mega Man Xtreme 2 (USA) (GBC) (Virtual Console)
0258 - Mega Man Xtreme (USA) (GBC) (Virtual Console)
0259 - Zombie Slayer Diox (Europe) (eShop)
0260 - Bird Mania Christmas 3D (Europe) (En,Fr,De,Es,It) (eShop)
0261 - Cocoro Line Defender (Europe) (En,Fr,De,Es,It) (eShop)
0262 - My First Songs 2 (Europe) (eShop)
0263 - Pyramids 2 (Europe) (En,Fr,De,Es,It) (eShop)
0264 - 3D Solitaire (Europe) (eShop)
0265 - Crazy Kangaroo (Europe) (eShop)
0266 - Monster Shooter (Europe) (eShop)
0267 - Cube Tactics (Europe) (En,Fr,De,Es,It) (eShop)
0268 - Starship Damrey, The (Europe) (eShop)
0269 - Johnny Kung Fu (Europe) (eShop)
0270 - Johnny Hotshot (Europe) (eShop)
0271 - Sumico (Europe) (eShop)
0272 - Toys Vs Monsters (Europe) (En,Fr,De,Es,It) (eShop)
0273 - Castle Conqueror Defender (USA) (eShop)
0274 - Mighty Final Fight (USA) (eShop)
0275 - Battleminer (Europe) (eShop)
0276 - Planet Crashers (Europe) (En,Fr,De,Es,It) (eShop)
0277 - Turtle Tale (Europe) (eShop)
0278 - Rising Board 3D (Europe) (En,Fr,De,Es,It) (eShop)
0279 - Dillon's Rolling Western - The Last Ranger (Europe) (En,Fr,De,Es,It) (eShop)
0280 - European Conqueror 3D (Europe) (eShop)
0281 - Bugs Vs. Tanks! (Europe) (eShop)
0282 - Crash City Mayhem (Europe) (En,Fr,De,Es,It) (eShop)
0283 - Brutus & Futee (Europe) (En,Fr,De) (eShop)
0284 - Pure Chess (Europe) (En,Fr,De,Es,It,Nl,Pt,Ru) (eShop)
0285 - Fishdom H2O - Hidden Odyssey (Europe) (eShop)
0286 - Samurai Sword Destiny (Europe) (eShop)
0287 - MindFeud (Europe) (En,Fr,De,Es,Nl) (eShop)
0288 - Swords & Soldiers 3D (Europe) (En,Fr,De,Es,It) (eShop)
0289 - Fun! Fun! Minigolf Touch! (Europe) (En,Fr,De,Es) (eShop)
0290 - Hydroventure - Spin Cycle (Europe) (En,Fr,De,Es,It) (eShop)
0291 - Mad Dog McCree (Europe) (eShop)
0292 - Van Helsing Sniper Zx100 (Europe) (En,Fr,De,Es,It) (eShop)
0293 - Nekketsu Mahou Monogatari (Japan) (eShop)
0294 - Aero Porter (Europe) (eShop)
0295 - escapeVektor (Europe) (eShop)
0296 - Art of Balance TOUCH! (Europe) (En,Fr,De,Es) (eShop)
0297 - Chibi-Robo! Let's Go, Photo! (Europe) (En,Fr,De,Es,It) (eShop)
0298 - Tiny Games - Knights & Dragons (Europe) (En,Fr,De,Es,Nl) (eShop)
0299 - Samurai G (Europe) (eShop)
0300 - Comic Workshop (Europe) (En,Fr) (eShop)
0301 - Painting Workshop (Europe) (En,Fr) (eShop)
0302 - Club Nintendo Picross (Japan) (eShop)
0303 - Club Nintendo Picross Plus (Japan) (eShop)
0304 - Denpa Ningen no RPG 3 (Japan) (eShop)
0305 - Majo to Yuusha (Japan) (eShop)
0306 - Super Mario Bros Deluxe (Japan) (GBC) (Virtual Console)
0307 - Cubit - The Hardcore Platformer Robot (Europe) (En,Fr,De,Es,It) (eShop)
0308 - Rage of the Gladiator (Europe) (eShop)
0309 - Parking Star 3D (Europe) (eShop)
0310 - Coaster Creator 3D (Europe) (En,Fr,De) (eShop)
0311 - 10-in-1 - Arcade Collection (Europe) (eShop)
0312 - Sudoku by Nikoli (Europe) (En,Fr,De,Es,It) (eShop)
0313 - Wakedas (Europe) (eShop)
0314 - Colors! 3D (Japan) (eShop)
0315 - Denpa Ningen no RPG (Japan) (eShop)
0316 - Pix3D (Europe) (eShop)
0317 - Angry Bunnies (Europe) (eShop)
0318 - Bubble Pop World (Europe) (eShop)
0319 - Color Zen (Europe) (eShop)
0320 - Color Zen Kids (Europe) (eShop)
0321 - My Style Studio - Hair Salon (Europe) (eShop)
0322 - Monster Hunter 4 Ultimate (Europe) (En,Fr,De,Es,It) (Demo) (eShop)
0323 - Mighty Switch Force! (Europe) (En,Fr,De,Es,It) (eShop)
0324 - Mighty Switch Force! 2 (Europe) (En,Fr,De,Es,It) (eShop)
0325 - Vacation Adventures - Park Ranger (Europe) (En,Fr,De,Es) (eShop)
0326 - Vacation Adventures - Park Ranger 2 (Europe) (En,Fr,De,Es) (eShop)
0327 - Crazy Chicken - Pirates 3D (Europe) (En,Fr,De,Es,It) (eShop)
0328 - Pyramids (Europe) (En,Fr,De,Es,It,Nl) (eShop)
0329 - SpeedThru - Potzol's Puzzle (Europe) (En,Fr,De,Es,It) (eShop)
0330 - Picdun 2 - Witch's Curse (Europe) (eShop)
0331 - Brunch Panic (Europe) (eShop)
0332 - Sweet Memories Blackjack (Europe) (eShop)
0333 - Quell Reflect (Europe) (eShop)
0334 - Hana Samurai - Art of the Sword (Europe) (eShop)
0335 - Balloon Pop Remix (Europe) (eShop)
0336 - Dot Runner - Complete Edition (Europe) (eShop)
0337 - 3D Classics - Excitebike (Europe) (eShop)
0338 - Best of Mahjong (Europe) (En,Fr,De,Es,It) (eShop)
0339 - Best of Solitaire (Europe) (En,Fr,De,Es,It) (eShop)
0340 - Marvel Pinball 3D (Europe) (En,Fr,De,Es,It) (eShop)
0341 - Zen Pinball 3D (Europe) (En,Fr,De,Es,It) (eShop)
0342 - Puzzle Box Setup (Europe) (eShop)
0343 - Bit Boy!! Arcade (Europe) (eShop)
0344 - Fish On 3D (Europe) (eShop)
0345 - Dress to Play - Cute Witches! (Europe) (En,Fr,De,Es,It) (eShop)
0346 - Dress to Play - Magic Bubbles! (Europe) (En,Fr,De,Es,It) (eShop)
0347 - Monster Combine TD (Europe) (En,Fr) (eShop)
0348 - Deco Photo 3D (France) (eShop)
0349 - Lola's Math Train (Europe) (En,Fr,De) (eShop)
0350 - Undead Bowling (Europe) (eShop)
0351 - SpeedX 3D (Europe) (eShop)
0352 - SpeedX 3D Hyper Edition (Europe) (eShop)
0353 - Rabi Laby 3 (Europe) (eShop)
0354 - Kung Fu Rabbit (Europe) (En,Fr,De,Es,It) (eShop)
0355 - Siesta Fiesta (Europe) (eShop)
0356 - Demon King Box (Europe) (eShop)
0357 - Block Factory (Europe) (En,Fr,De,Es,It) (eShop)
0358 - Castle Conqueror Defender (Europe) (eShop)
0359 - Christmas Wonderland 4 (Europe) (eShop)
0360 - Bit Boy!! Arcade (USA) (eShop)
0361 - Deer Hunting King (USA) (eShop)
0362 - Outdoors Unleashed - Africa 3D (USA) (eShop)
0363 - Wild Adventures - Ultimate Deer Hunt 3D (USA) (En,Fr) (eShop)
0364 - 3D After Burner II (Europe) (eShop)
0365 - 101 Dino Pets 3D (Europe) (En,Fr,De,Es,It) (eShop)
0366 - 101 Penguin Pets 3D (Europe) (En,Fr,De,Es,It) (eShop)
0367 - 101 Pony Pets 3D (Europe) (En,Fr,De,Es,It) (eShop)
0368 - Castle Clout 3D (Europe) (En,Fr,De,Es,It,Pt) (eShop)
0369 - Fairune (USA) (eShop)
0370 - Tokyo Crash Mobs (USA) (eShop)
0371 - Undead Bowling (USA) (eShop)
0372 - Zombie Slayer Diox (USA) (eShop)
0373 - Hazumi (Europe) (eShop)
0374 - BearShark (Europe) (eShop)
0375 - Citizens of Earth (Europe) (En,Fr,De,Es,It) (eShop)
0376 - Johnny HotShot (USA) (eShop)
0377 - Johnny Kung Fu (USA) (eShop)
0378 - Strike Force Foxx (USA) (eShop)
0379 - Turtle Tale (USA) (Rev 1) (eShop)
0380 - Order Land! (Japan) (eShop)
0381 - Banana Bliss - Jungle Puzzles (Europe) (En,Fr,De,Es,It) (eShop)
0382 - Governor of Poker (Europe) (En,Fr,De,Es,It) (eShop)
0383 - Groove Heaven (Europe) (En,Fr,De,Es,It) (eShop)
0384 - Skater Cat (Europe) (En,Fr,De,Es,It) (eShop)
0385 - Robot Rescue 3D (Europe) (En,Fr,De,Es,It) (eShop)
0386 - Space Lift Danger Panic! (USA) (En,Fr,Es) (eShop)
0387 - Undead Storm Nightmare (USA) (eShop)
0388 - Sparkle Snapshots 3D (Europe) (eShop)
0389 - Citizens of Earth (USA) (En,Fr,Es) (eShop)
0390 - Mysterious Cities of Gold - Secret Paths, The (Europe) (En,Fr,De,Es,It,Sv,No,Pl,Ru,Ar) (Rev 1) (eShop)
0391 - Gunman Clive 2 (Europe) (eShop)
0392 - Home Menu ni Kazareru Badge Toreru Center (Japan) (eShop)
0393 - League of Heroes (USA) (eShop)
0394 - Drop Zone - Under Fire (USA) (eShop)
0395 - Heavy Fire - Special Operations 3D (Europe) (En,Fr,De,Es,It) (eShop)
0396 - Heavy Fire - Black Arms 3D (Europe) (En,Fr,De,Es,It) (eShop)
0397 - Shantae and the Pirate's Curse (Europe) (En,Fr,De,Es,It) (eShop)
0398 - Flipnote Studio 3D (USA) (eShop)
0399 - Layton Kyouju to Kiseki no Kamen+ (Japan) (eShop)
0400 - Rabi x Rabi - Episode 3 (Japan) (eShop)
0401 - Onna Kateikyoushi Izuka Sensei to Misshitsu ni Itara Marumaru Shichau Kamoshirenai (Japan) (eShop)
0402 - Simple DL Series Vol. 12 - The Dasshutsu Game - Kiken na 5-tsu no Misshitsu (Japan) (eShop)
0403 - Simple DL Series Vol. 14 - The Dasshutsu Game - Uragiri no Misshitsu (Japan) (eShop)
0404 - 2 Fast 4 Gnomz (Europe) (eShop)
0405 - AiRace Xeno (Europe) (eShop)
0406 - AiRace Speed (Europe) (eShop)
0407 - Space Lift Danger Panic! (Europe) (En,Fr,De,Es,It,Pt) (eShop)
0408 - Tangram Style (Europe) (En,Fr,De,Es,It,Pt) (eShop)
0409 - Undead Storm Nightmare (Europe) (eShop)
0410 - Happy Circus (Europe) (En,Fr,De,Es,It,Pt) (eShop)
0411 - KAMI (USA) (eShop)
0412 - Tangram Attack (USA) (eShop)
0413 - 3D Fantasy Zone (Europe) (eShop)
0414 - Foto-Zauber 3D (Germany) (eShop)
0415 - Carl Jiisan no Soratobu Ie 3D (Japan) (eShop) (Video)
0416 - Sugar Rush 3D (Japan) (eShop) (Video)
0417 - Mario and Donkey Kong - Mini Mini Carnival (Japan) (eShop)
0418 - Shinobi no Pazuru (Japan) (eShop)
0419 - Hippariinya! (Japan) (eShop)
0420 - KAMI (Japan) (eShop)
0421 - League of Heroes (Japan) (eShop)
0422 - Mercenaries Saga 2 (Japan) (eShop)
0423 - Gumman Story (Japan) (eShop)
0424 - Gumman Story 2 (Japan) (eShop)
0425 - Family Tennis 3D (Europe) (En,Fr,De,Es,It,Pt) (eShop)
0426 - Family Kart 3D (Europe) (En,Fr,De,Es,It,Pt) (eShop)
0427 - Zombie Incident (Europe) (En,Fr,De,Es,It,Nl) (eShop)
0428 - Sky Fighters - Thorium Sensou, The (Japan) (eShop)
0429 - 3D OutRun (Europe) (eShop)
0430 - Proun+ (Europe) (eShop)
0431 - Olli Olli (Europe) (En,Fr,De,Es,It) (eShop)
0432 - Music on - Electric Guitar (Europe) (En,Fr,De,Es,It) (eShop)
0433 - Navy Commander (Europe) (En,Fr,De,Es,It,Nl) (eShop)
0434 - Adventure Bar Story (USA) (eShop)
0435 - Mario vs Donkey Kong - Tipping Stars (USA) (eShop)
0436 - 3D Visual Experience (USA) (eShop)
0437 - 50 Pinch Barrage!! (USA) (eShop)
0438 - Chat-A-Lot (USA) (eShop)
0439 - Excave (USA) (eShop)
0440 - Iron Combat - War in the Air (USA) (eShop)
0441 - Mes Comptines (USA) (eShop)
0442 - Quell Memento (USA) (eShop)
0443 - Secret Journeys - Cities of the World (USA) (eShop)
0444 - Soccer Up Online (USA) (eShop)
0445 - I've Got to Run - Complete Edition! (USA) (eShop)
0446 - Pong Pong Candy (USA) (eShop)
0447 - Toys vs Monsters (USA) (eShop)
0448 - Picross e (Japan) (eShop)
0449 - Picross e2 (Japan) (eShop)
0450 - Picross e3 (Japan) (eShop)
0451 - Picross e4 (Japan) (eShop)
0452 - League of Heroes (Europe) (eShop)
0453 - World Conqueror 3D (Europe) (eShop)
0454 - Mighty Gunvolt (Europe) (eShop)
0455 - Adventure Bar Story (Europe) (eShop)
0456 - Excave (Europe) (En,Fr,De,Es,It) (eShop)
0457 - Azure Striker Gunvolt (Europe) (En,Fr,De,Es,It) (eShop)
0458 - BOXBOY! (USA) (En,Fr,Es) (eShop)
0459 - Glory of Generals (Europe) (eShop)
0460 - 3D Space Harrier (Europe) (En,Fr,De,Es,It) (eShop)
0461 - Chibi-Robo! Photo Finder (USA) (eShop)
0462 - Liberation Maiden (USA) (eShop)
0463 - VVVVVV (USA) (eShop)
0464 - Cave Story (USA) (eShop)
0465 - Phoenix Wright - Ace Attorney - Dual Destinies (USA) (eShop)
0466 - Puzzle Bottle (Japan) (eShop)
0467 - Radio Hammer (Japan) (eShop)
0468 - Samurai Defender (Japan) (eShop)
0469 - Simple DL Series Vol. 36 - The Misshitsu Kara no Dasshutsu - Tabi wa Michizure! Tetsudou-Hen (Japan) (eShop)
0470 - Simple DL Series Vol. 37 - The Kyojin (Japan) (eShop)
0471 - Zombie Panic in Wonderland DX (Japan) (eShop)
0472 - Bokura no Nanokakan Sensou - Yuujou Adventure (Japan) (eShop)
0473 - Zombie Panic in Wonderland DX (Europe) (En,Fr,Es) (eShop)
0474 - A-Train - 3D City Simulator (Europe) (eShop)
0475 - 3D Altered Beast (Europe) (En,Fr,De,Es,It) (eShop)
0476 - Heart Beaten (Europe) (En,Fr,Es,Pt) (eShop)
0477 - Iron Combat - War in the Air (Europe) (En,Fr,De,Es,It) (eShop)
0478 - Tappingo (Europe) (eShop)
0479 - 3D Ecco the Dolphin (Europe) (En,Fr,De,Es,It) (eShop)
0480 - Legend of Dark Witch, The (Europe) (eShop)
0481 - BOXBOY! (Europe) (En,Fr,De,Es,It) (eShop)
0482 - Chat-A-Lot (Europe) (En,Fr,De,Es,It) (eShop)
0483 - 3D Streets of Rage (Europe) (En,Fr,De,Es,It) (eShop)
0484 - 3D Fantasy Zone II W (Europe) (eShop)
0485 - Super Little Acorns 3D Turbo (Europe) (En,Fr,De,Es,It) (eShop)
0486 - Dasshutsu Adventure - Noroi no Suuretsu (Japan) (eShop)
0487 - Pony Pets 3D (Japan) (eShop)
0488 - Shin Hyu Stone (Japan) (eShop)
0489 - Shizuku Memory (Japan) (eShop)
0490 - Simple DL Series Vol. 38 - The Item Sagashi - Joshikousei Tantei Shinjitsu no Jikenbo (Japan) (eShop)
0491 - 3D Bare Knuckle II - Shitou e no Requiem (Japan) (eShop)
0492 - Minna no Decoration Card (Japan) (eShop)
0493 - Nikki no Tabisuru Quiz (Japan) (eShop)
0494 - Touch Battle Tank 3D 3 (Japan) (eShop)
0495 - Runny Egg (USA) (eShop)
0496 - Excave II - Wizard of the Underworld (Europe) (eShop)
0497 - DOOORS (USA) (eShop)
0498 - Mario vs Donkey Kong - Tipping Stars (Europe) (eShop)
0499 - Dedede's Drum Dash Deluxe (Europe) (En,Fr,De,Es,It) (eShop)
0500 - Snow Moto Racing 3D (Europe) (En,Fr,De,Es,It,Pt) (eShop)
0501 - Kirby Fighters Deluxe (Europe) (En,Fr,De,Es,It) (eShop)
0502 - Bit Boy!! Arcade (Europe) (Rev 1) (eShop)
0503 - Citizens of Earth (Europe) (En,Fr,De,Es,It) (Rev 1) (eShop)
0504 - Fallblox (Europe) (eShop)
0505 - NightSky (Europe) (eShop)
0506 - Bloo Kid 2 (Europe) (En,Fr,De,Es,It,Nl,Pt,Ru) (eShop)
0507 - Dynamite Johnny (Japan) (eShop)
0508 - Legend of Kusakari - Siba Kali no Densetsu,The (Japan) (eShop)
0509 - 3D Thunder Blade (Europe) (eShop)
0510 - Darts Up 3D (Europe) (En,Fr,De,Es,It) (eShop)
0511 - Battleminer (Europe) (Rev 2) (eShop)
0512 - Aqua Moto Racing 3D (Europe) (En,Fr,De,Es,It,Pt) (eShop)
0516 - Gekidou! Arbeiter Koji (Japan) (eShop)
0517 - Dr. Mario - Miracle Cure (World) (En,Ja,Fr,De,Es,It) (eShop)
0518 - Killca Drive (Japan) (eShop)
0519 - Tobidasu! Nyanko Daisensou (Japan) (eShop)
0520 - Pokemon Battle Trozei (Japan) (eShop)
0521 - Loop Line Racing (Japan) (eShop)
0522 - Vampire Sniper (Japan) (eShop)
0523 - Cororoke no Mori Poitto (Japan) (eShop)
0524 - Guunyan (Japan) (eShop)
0525 - 3D Gunstar Heroes (Japan) (eShop)
0526 - Mud Attack! Max vs Dorodoro Seijin (Japan) (eShop)
0527 - Comic Workshop (Europe) (En,Fr) (Rev 1) (eShop)
0528 - Painting Workshop (Europe) (En,Fr) (Rev 1) (eShop)
0529 - Comic Workshop 2 (Europe) (En,Fr) (eShop)
0530 - Samurai Defender (USA) (eShop)
0531 - Steamworld Dig (USA) (eShop)
0532 - Olli Olli (USA) (En,Fr,De,Es,It) (eShop)
0538 - Cube Creator 3D (Japan) (eShop)
0539 - Gyouretsu NageLoop (Japan) (eShop)
0541 - Oh! Gattiman Kyuukyoku no Omega Chinpou to Momige 26 (Japan) (eShop)
0543 - Daigasso! Band Brothers P Debut (Japan) (eShop)
0544 - Swords & Darkness (USA) (eShop)
0545 - Ninja Usagimaru - The Gem of Blessings (USA) (eShop)
0546 - Japanese Rail Sim 3D - Journey in Suburbs #1 (USA) (eShop)
0547 - Gunman Clive (USA) (eShop)
0548 - 3D Thunder Blade (USA) (eShop)
0549 - Senran Kagura Burst (USA) (eShop)
0550 - Zombie Incident (USA) (eShop)
0551 - Robot Rescue 3D (USA) (eShop)
0552 - Picross e6 (Europe) (En,Fr,De,Es,It) (eShop)
0553 - Shingeki no Kyojin - Humanity in Chains (Europe) (eShop)
0554 - Bike Rider DX (Europe) (eShop)
0555 - Bike Rider DX2 - Galaxy (Europe) (eShop)
0556 - Mercenaries Saga 2 (Europe) (eShop)
0557 - Samurai Defender (Europe) (eShop)
0558 - 3D Classics - Xevious (Europe) (eShop)
0559 - 3D Streets of Rage 2 (Europe) (En,Fr) (eShop)
0560 - Tokyo Crash Mobs (Europe) (eShop)
0561 - KAMI (Europe) (eShop)
0562 - Squids Odyssey (Europe) (En,Fr,De,Es,It) (eShop)
0563 - Ninja Battle Heroes (Europe) (eShop)
0564 - Karous - The Beast of Re-Eden (Europe) (eShop)
0565 - Angry Video Game Nerd Adventures (USA) (eShop)
0566 - 3D Gunstar Heroes (Europe) (eShop)
0567 - Flick Golf 3D (Europe) (eShop)
0568 - Fantasy Pirates (Europe) (En,Fr,De,Es,It) (eShop)
0569 - Cube Creator 3D (Europe) (En,Fr,De,Es) (eShop)
0570 - Pikmin Short Movies 3D (Europe) (En,Fr,De,Es,It) (eShop)
0571 - Smash Controller (Europe) (En,Fr,De,Es,It,Nl,Pt,Ru) (eShop)
0572 - Photos with Animal Crossing (Europe) (En,Fr,De,Es,It) (eShop)
0573 - Senran Kagura 2 - Deep Crimson (Europe) (eShop)
z001 - Final Fantasy (Japan) (eShop)
z002 - Attack on Titan - Humanity in Chains (USA) (eShop)
z003 - Shin Megami Tensei IV (Europe) (eShop)
z004 - Cube Creator 3D (USA) (eShop)
z005 - IRONFALL Invasion (Europe) (eShop)
z006 - 3D Sonic The Hedgehog 2 (Japan) (eShop)
z007 - Karaoke JOYSOUND (Japan) (eShop)
z008 - Chari-Sou DX3 - Time Rider (Japan) (eShop)
z009 - Chari-Sou DX (Japan) (eShop)
z010 - Kaku-San-Sei Million Arthur (Japan) (eShop)
z011 - NicoNico (Japan) (eShop)
z012 - Steel Diver - Sub Wars (Japan) (eShop)
z013 - YouTube (Japan) (eShop)
z014 - Ishi Sengokuden Sadame (Japan) (eShop)
z015 - Puchi Noberu - Kyouiki no Ichigatsu (Japan) (eShop)
z016 - Hako Boy! (Japan) (eShop)
z017 - Riki Densetsu (Japan) (eShop)
z018 - Carps & Dragons (Europe) (En,Fr,De,Es,It) (eShop)
z019 - Hikudasu - Hippa Land (Japan) (eShop)
z022 - Pokemon Shuffle (World) (En,Ja,Fr,De,Es,It) (Rev 2) (eShop)
z023 - Pokemon Rumble World (World) (En,Ja,Fr,De,Es,It) (Rev 1) (eShop)
z024 - Mario Kart 7 (China) (eShop)
z025 - Brunch Panic (Taiwan) (eShop)
z026 - Fairune (Taiwan) (eShop)
z027 - Gekiyaba Runner (Taiwan) (eShop)
z028 - Gunman Story (Taiwan) (eShop)
z029 - Hikuosu (Taiwan) (eShop)
z030 - Super Mario 3D Land (China) (eShop)
z031 - Tetsudou Nippon! Rosen Tabi - Nagaragawa Tetsudou Hen (Taiwan) (eShop)
z032 - Legend of Dark Witch, The - Chronicle 2D ACT (Taiwan) (eShop)
z033 - Witch & Hero (Taiwan) (eShop)
z034 - 3D Classics - Excitebike (Japan) (eShop)
z035 - Flipnote Studio 3D (Japan) (Rev 2) (eShop)
z036 - KORG M01D (USA) (eShop)
z037 - Arc Style - Baseball 3D (Europe) (En,Fr,De,Es,It,Pt) (eShop)
z038 - Football Up 3D (Europe) (En,Fr,De,Es,It) (eShop)
z039 - Bijin-Tokei (Japan) (eShop)
z040 - Nintendo Anime Channel (Europe) (En,Fr,De,Es,It,Nl,Pt,Ru) (eShop)
z041 - True Remembrance - Kioku no Kakera (Japan) (eShop)
z042 - Denpa Ningen no RPG FREE! (Japan) (eShop)
z043 - Touzoku to 1000-Biki no Pokemon (Japan) (eShop)
z044 - Mononoke Tantei - Shida no Ayakashi Jiken Chou (Japan) (eShop)
z045 - Isshoni Photo Doubutsu no Mori (Japan) (eShop)
z046 - Isshoni Photo Super Mario (Japan) (eShop)
z047 - Isshoni Photo Pikmin (Japan) (eShop)
z048 - Swords & Darkness (Japan) (eShop)
z049 - Bukigami (Japan) (eShop)
z050 - Initial D Perfect Shift Online (Japan) (eShop)
z051 - Urban Trial Freestyle (Japan) (eShop)
z052 - Picross e5 (Japan) (eShop)
z053 - Picross e6 (Japan) (eShop)
z054 - 3D Fantasy Zone - Opa-Opa Bros. (Japan) (eShop)
z055 - 3D Fantasy Zone II W (Japan) (eShop)
z056 - 3D OutRun (Japan) (eShop)
z057 - Armed Blue - Gunvolt (Japan) (eShop)
z058 - Kiwamero! Shunkan Jump Kentei (Japan) (eShop)
z059 - Mighty Gunvolt (Japan) (eShop)
z060 - Rinkou no Lantse (Japan) (eShop)
z061 - Time Avenger (Japan) (eShop)
z062 - peakvox - Mew Mew Train (Japan) (eShop)
z063 - Hitsuji no Shaun 3D - Dai-1-Maki (Japan) (eShop) (Video)
z064 - Hitsuji no Shaun 3D - Dai-2-Maki (Japan) (eShop) (Video)
z065 - Hitsuji no Shaun 3D - Dai-3-Maki (Japan) (eShop) (Video)
z066 - Hitsuji no Shaun 3D - Dai-4-Maki (Japan) (eShop) (Video)
z067 - Hitsuji no Shaun 3D - Dai-5-Maki (Japan) (eShop) (Video)
DOWNLOAD
http://safelinks.in/xzolez-ooakc


Related News: