Die Aquarium Profis S03 Complete German DOKU dTVRip XviD - Koloth
Die Aquarium Profis S03 Complete German DOKU dTVRip XviD - Koloth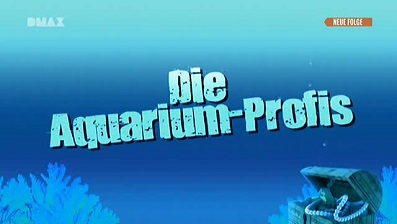 Groß, größer, am größten! Handelsübliche Zimmer-Aquarien sind auch nett, doch mit 10 Liter-Becken haben Wayde King und sein Partner Brett Raymer wenig am Hut.
Ihr Spezialgebiet sind atemberaubende Unterwasserwelten! Vom achteckigen Öko-System mit Muränen und Stachelrochen über das Telefonzellen-Aquarium bis zum Haifisch-Tank für die Arzt-Praxis: Es gibt fast keine Idee, an die sich die Jungs nicht herantrauen.
Dementsprechend lautet das Motto der beiden New Yorker: Wovon andere träumen, setzen wir in die Tat um! Und ihre Super-Aquarien gefallen nicht nur den Unterwasser-Bewohnern ausgesprochen gut, sondern auch dem Publikum.
Wo immer Brett und Wayde ihrer beeindruckenden Spezialanfertigungen der Öffentlichkeit präsentieren, kommen die Leute aus dem Staunen nicht heraus.
Format: avi
Größe: ca. 450 mb
Dauer: ca. 45 Min.
Video: 640x352
Audio 1 German: mp3 128 Kbps
Nfo:
Allgemein
Vollständiger Name : Die Aquarium-Profis - S3E01. Jurassic Campground.avi
Format : AVI
Format/Info : Audio Video Interleave
Dateigröße : 448 MiB
Dauer : 43min
Gesamte Bitrate : 1 442 Kbps
Kodierendes Programm : Lavf52.0.0
Video
ID : 0
Format : xvid
Codec-ID : xvid
Dauer : 43min
Bitrate : 1 301 Kbps
Breite : 640 Pixel
Höhe : 352 Pixel
Bildseitenverhältnis : 16:9
Bildwiederholungsrate : 25,000 FPS
Bits/(Pixel*Frame) : 0.231
Stream-Größe : 404 MiB (90%)
Audio
ID : 1
Format : MPEG Audio
Format-Version : Version 1
Format-Profil : Layer 3
Format_Settings_Mode : Joint stereo
Format_Settings_ModeExtension : MS Stereo
Codec-ID : 55
Codec-ID/Hinweis : MP3
Dauer : 43min
Bitraten-Modus : konstant
Bitrate : 128 Kbps
Kanäle : 2 Kanäle
Samplingrate : 48,0 KHz
Stream-Größe : 39,8 MiB (9%)
Ausrichtung : Ausgerichtet an Interleaves
Interleave, Dauer : 24 ms (0,60 Video-Frame)
Alle Folgen können auch einzeln geladen werden.
Folgen S03:
S03E01 DMAX-Folge 21 (Jurassic Campground)
S03E02 DMAX-Folge 22 (A Guiding Light to Fitness)
S03E03 DMAX-Folge 23 (Nigiri and the NBA)
S03E04 DMAX-Folge 24 (Fermenting Donuts)
S03E05 DMAX-Folge 25 (A Healthy Dose of ATM)
S03E06 DMAX-Folge 26 (Popcorn on the High Seas)
S03E07 DMAX-Folge 27 (Sweet Memories)
S03E08 DMAX-Folge 28 (Just What the Doctor Ordered)
S03E09 DMAX-Folge 29 (Smiling is the Best Medicine)
S03E10 DMAX-Folge 30 (Lifestyles of the Fish & Famous)
S03E11 DMAX-Folge 31 (Brace Yourself for Employee of the Month)
S03E12 DMAX-Folge 32 (Tricks and Trees)
S03E13 DMAX-Folge 33 (Crazy Client Requests)
S03E14 DMAX-Folge 34 (Rock N' Roll Eruption!)
S03E15 DMAX-Folge 35 (Legal Vending Machine)
S03E16 DMAX-Folge 36 (Tracy and his Octopus)
S03E17 DMAX-Folge 37 (Tank This!)
S03E18 DMAX-Folge 38 (Betty White's Got an App for That)
S03E19 DMAX-Folge 39 (Tanked for the Holidays)
S03E20 DMAX-Folge 40 (Playing Favorites!)
Links: share-online
und uploaded
SO: Share-Links.biz
ul: Share-Links.biz
Bei Downmeldungen bitte PN mit link zum Thread an mich senden.
Ein Danke tut nicht weh. Denkt doch bitte daran.
Related News: