Lion King #16: I know what I have to do. But going back means I'll have to face my past. I've been running from it for so long.
WELCOME TO
#16

the story part 1
1994. When Simba is born, it seems like he has everything.
He is the future king, has a great friend Nala and he's on top of the food chain.
But when Scar, his evil uncle, murders Mufasa, his kind father,
Simba can't help but feel it is his fault.
He runs always from home and meets Timon and Pumbaa,
2 outcasts that don't live by rules and don't look at the past.
But Simba's past is hunting him so he must choose between
living the relaxed life according to 'Hakuna Matata'
or save his family from Scar and his followers.


the story part 2
1998. Kiara is Simba's and Nala's chilid and thus future queen.
But with a very protective dad sometimes being yourself can be hard.
When Kiara goes over the wards of the Pride lands,
she meets Kovu, a young male lion.
But they're from 2 different worlds and can't be together.
So they must find a way to bring peace between their 2 countries
before they all destroy each other and their last chance at freedom.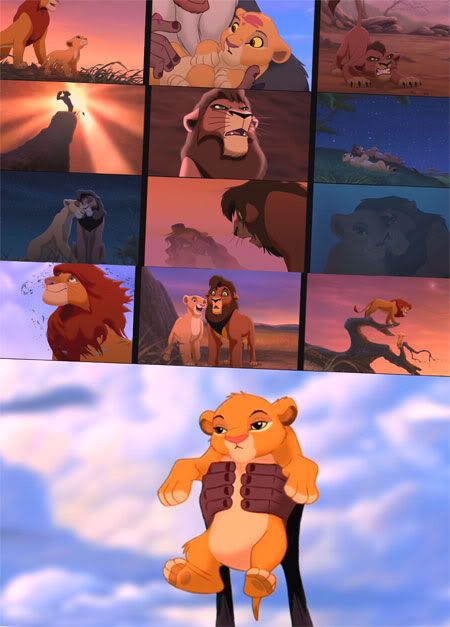 the story part 1½
this story tells the tale of Timon and Pumbaa
before they ever met the lions.
It's the story of 2 outcasts in their own family
and together they creature their own rules, their own little family.
Together they enjoy life. Hakuna Matata.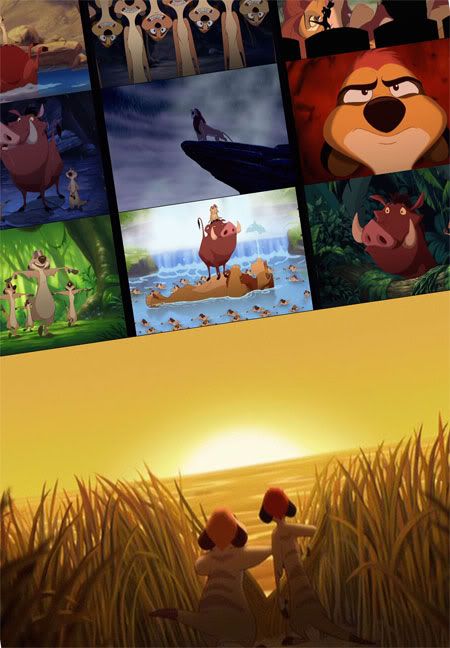 the songs
Circle of Life • I Just Can't Wait to be King
Be Prepared • Hakuna Matata
Can you Feel the Love Tonight? • the Morning Report
He Lives in You • We Are One
my Lullaby • Upendi
He is Not One of Us • Love Will Find a Way
Grazing in the Grass • Digga Tunnah Dance
That's All I Need • the Lion Sleeps Tonight
Jungle Boogie • Timon's Traveling
The Good, The Bad and The Ugly
When we die, our bodies become the grass and the antelope eat the grass.
And so we are all connected in the great circle of life.
~Mufasa
I know he's following in Scar's paw prints.
And I must follow in my father's.
~Simba
I T • L I V E S • I N • U S
Fans
1. Jenny's Dimple
2. murphyboy11
3. i feel infinite
4. linsxx3
5. bed of roses
6.MixSaysRawr
7. Full Hearts
8. Fany93
9. livstevi21
10. Leo_Lover
11. Kelly_Dylan
12. TruLove
13. Moonlight_shine
14. bijou156
15. MaybeLove
16. baelfire2
17. SargeantFuzzyBoots
18. AutumnColors
19. LostShadow
20. Silver Surfer
21. Arawen
22. For You to Notice...
23. sourburst
24. KevneyIs4ever
25. calls me home
26. sourburst
previous threads
000 ; 001 ; 002 ; 003 ; 004 ; 005
006 ; 007 ; 008 ; 009 ; 010| 012 13 14 15
OP made by like a skyscraperl
Related News: