Queer As Folk ~ 2.15 ~ "Rage Against This Machine"~ Episode Discussion *NEW*
*NEW* Episode "Live" Watch Discussion! Break out your DVD's, Showtime or your favorite way to watch Queer As Folk. We are going to watch and discuss 1 episode per week (unless we decide as a group otherwise).
2.15 ~ "Rage Against This Machine" ~ Episode Discussion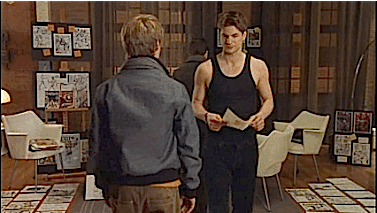 Brian is jealous when Michael and Justin decided to start a comic book; Leda offers to renovate Mel and Lindsay's attic; Emmett is barred from George's funeral.
Director: Jeremy Podeswa
Writers: Ron Cowen, Daniel Lipman & Karen Walton
Series Created by: Russell T. Davies
Original air date: May 5, 2002 (United States), May 6, 2002 (Canada)
Scenes ~ https://www.youtube.com/playlist?lis...tIeS6Jz2QAMSZp
Music from 215
Bang Bang (Eddie Baez 3 a.m. Mix) - Afro Cuban Band - Babylon - Michael & Justin doodling
Liar Song - Michael Chase - Diner - Michael convinces Justin to collaborate
Oh Yeah - Yello - Michael & Justin get inspiration for "Rage"
Teenage Sensation - Gus Gus - Coming up with story ideas at the store / Brian in bed, waiting for Justin
Get Down - Black Market Audio - Michael & Justin hard at work
Cristal - kinnder - Brian is "pissed"
BDL - kinnder - Loft/Diner - the boys discover the wreckage
Freedom (Andy & The Lamboy Progressive Club Mix) - Twelve Tone - Woodys - Michael & Justin angry with Brian
Cheezy Intro - Extreme Music - Porn Awards
Nanu Nanu - Extreme Music - Porn Awards
Cheezy Intro - Extreme Music - Porn Awards
Sucker - Peaches - Leda moves in
Oh Yeah - Yello - Rage is born/Tail credits
Related News: