Dumbo Lovers ღ Pandie #105: Did you ever love somebody, so much that the earth moved?
"My life began when I met you, Andie."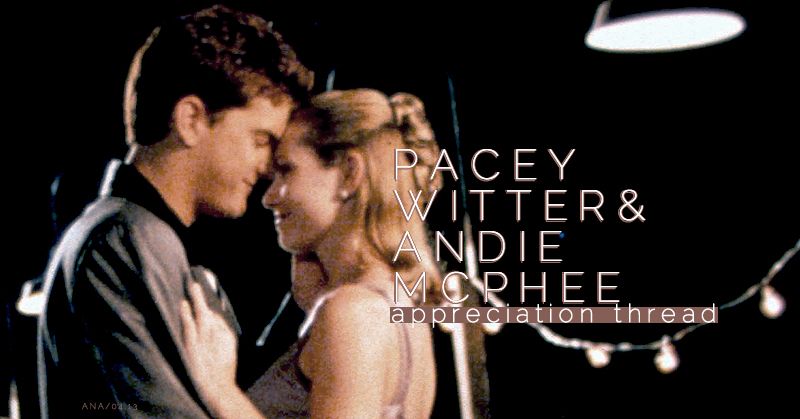 dumbo lovers | pandie shippers
001. Ellasblues
002. nine-nine!
003. Toscane
004. Cris
005. Brighter Than Sunshine
006. milestogo
007. Deb D
008. pacenjen
009. goodbreakingbad
010. Katie19
011. ReachOut
012. ThornyRose565
013. sweetee
014. JoshandChristinaCursed
015. Liliya
016. True Daisy Lover
017. wistfuldreamer
018. Swamy
019. dinkygal
020. JVDBFan20
021. ~Kissin in the Rain~
022. PACEYANDIE
023. Josephine Leery
024. angelface211
025. Creative Christy
026. Mylu
027. She screams in silence
028. Beatriz
029. sxy readr3
030. pjdorothy
031. xburningbrightx
032. brookiez69
033. ~*Yuki*~
034. Freshgirlly908
035. Black mamba
036. Murron
037. ale-la-pazza1
038. antisocial
039. Dorkodancer147
040. Califorrnia here I come
041. Girl Wonder
042. Lozza~TheAussieChick~
043. Undeniable
044. andre silva
045. lavenderskies
046. HereWithoutYOU
047. Tes!
048. onetreehill1216
049. Little Angel
050. BrittanyM.
051. Flomp
052. Touldengal
053. Lor-baby
054. IloveJosh
055. Nessa
056. kingjames23
057. jhlover
058. ocfan27
059. KarrieGem
060. simplyAlex_
061. joshuazgirl128
062. Deiaa
063. wingster
064. Ricanyork
065. Sweet Lil Angel
066. Jerry D
067. Crystal Clear
068. *Lori89*
069. CreekBee
070. 10mylove
071. Marcos
072. spacekiddet32
073. courtneybangelcakes
074. rainydays
075. aabf
076. Madison612
077. myla84
078. brendadylan1984
079. IloveGizzy
080. falling slowly
081. natehaley23
082. sailaway
083. :Kat:
084. LPisKiller90
085. lafs1684
086. BrathanSupporter
087. Ali
088. jen4ever
089. AppleBehryGrl23
090. brazilianchick20
091. MissSullivan
092. Pure.Magic
093. Pitty_mione
094. mrs.scott
095. nothing-without-you
096. ShallowxHeart
097. sweetdaisy
098. mondlerlove
099. Cici287
100. ~*¤Amelia¤*~
101. Videl-Chan
102. ExOhErin
103. Xelphia Kenny
104. -x-Lilac-x-
105. Samwise Gamgee
106. SidneyAce
107. LulubeeDavis
108. Natesgal55
109. McQueenFanGirl
110. mattlover
111. cyndie57
112. Trish03
113. ennaxor
114. TobyJenna
115. BepperGirl
116. lilaclullaby
117. WileyDairyGnome
118. TL22
119. Ankatje
120. Lorelai82
121. classictvfan91
122. Musickat18
123. Jaime Bee
124. freedom to believe
125. Captivating
126. DuVe2LoVe
127. la dolce vita
128 speedychatterbox
129. plucky sidekick
130. dreaming_out_loud
131 ana_cmoraes
132 sun kissed fan
133. jasonsgurl310
134. 90210-Steffi
135. chasity05
136. bscgirl99
137. CotWJosh
138. Dairfan21
"Well, I met this girl. Andie's beautiful. She's smart, she's funny,
she's... I tell you, this girl's really something special, Dad.
For whatever reason she thinks I'm special too."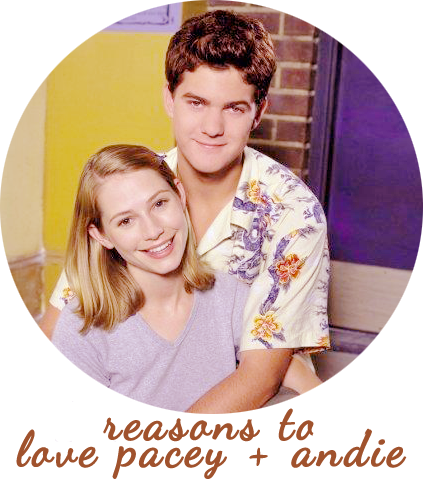 01) Because they never gave up on each other (220)
02) Because he was really special to her (210)
03) Because Andie could count on Pacey as a shoulder to cry on (219)
04) Because they had to get the Viper! (203)
05) Because she liked him, she REALLY liked him (204)
06) Because they had that passive-aggressive banter (206)
07) Because she saw his butt and he had nothing to worry about (213)
08) Because Pacey knew that he was so lucky (210)
09) Because she won his vote a few bumper stickers ago (209)
10) Because he fell hopelessly in love with her (211)
11) Because she probably had a perky corinary while anticipating his return from the sea (212)
12) Because Pacey wanted to spend that moment with Andie (206)
13) Because Andie shared Pacey's exact fear (211)
14) Because he loved the way she thought! (206)
15) Because she was proud to love him... (215)
16) ...and he was proud to love her back (215)
17) Because he believed it for her (217)
18) Because he didn't say a word (205)
19) Because he made her wanna do it (210)
20) Because she made him feel like maybe there was hope for his "pathetic existence" (210)
21) Because "the night's in a paper cup" (221)
22) Because he would have liked to scrump with her any day of the week (210)
23) Because she was proud of him (208)
24) Because what he did for her was nothing short of spectacular (208)
25) Because they were so deep (202)
26) Because he was "the luckiest guy in this world" (202)
27) Because they "literally collided" (201)
28) Because Pacey created the fantasy evening for Andie (210)
29) Because Andie was the girl that Pacey loved to hate... (207)
30) ...and she loved to hate him too (207)
31) Because he was one of the priceless people in her life (219)
32) Because he didn't let her push him away (213)
33) Because he was actually the charter member of the Andie McPhee Fan Club (213)
34) Because she was the most important being to ever grace his existence (211)
35) Because the signs pointed to "yes" (202)
36) Because her knees were shaking (206/221)
37) Because his heart was like "boom, boom, boom, boom, boom" (206/221)
38) Because he knew that he could help her, because he loved her (213)
39) Because he missed her so much, it was killing him (222)
40) Because he didn't throw her in front of a bus or anything, even though it was an interesting idea (204)
41) Because he went into the girls' bathroom for her (209)
42) Because they got through it (209)
43) Because they danced (206/221)
44) Because he was her hero (222)
45) Because their wedding was supposed to be in Venice, since it is the city of romance (218)
46) Because she seemed to think he was pretty special (212)
47) Because there were people in Pacey's life who recognized and respected his talent and ability--and Andie was one of them (212)
48) Because we got to witness oodles of quality time (209)
49) Because the week that he spent without her was a living hell and he never wanted to go through another moment like that (215)
50) Because his life began when he met her (220)
51) Because he was her hero on horseback (219)
52) Because a woman like her bothered to care about him (206)
53) Because she didn't think he was a joke (208)
54) Because he made her feel good about herself (206)
55) Because he didn't run screaming from her house when he met her crazy old mother (205/206)
56) Because she didn't know where he got the whole loser complex from (206)
57) Because it was basic Kindergarten psychology (204)
58) Because he held her in his arms as she cried and told her that everything was going to be alright (219, 220)
59) Because he believed that "the family that lays together stays together" (203)
60) Because they certainly had that moment (206)
61) Because it was a wild ride (221)
62) Because she remembered their promise (221)
63) Because she "thoroughly" enjoyed herself (211)
64) Because he had absolutely no intention of letting her go (213)
65) Because Pacey gave Andie strength (219)
66) Because he slept with her and he DID want her (211)
67) Because he didn't turn away from her, especially when she needed him the most (213)
68) Because Pacey was so grateful to Andie (221)
69) Because he made her "randy" (216)
70) Because they did it together (213)
71) Because they held hands (210)
72) Because she didn't want to let him go (221)
73) Because this wasn't a case of teen romance gone sour, he knew what he wanted, he wanted Andie (213)
74) Because he told her to take all the time she needed and he'd be there (210)
75) Because it was all part of his evil plan (210)
76) Because whether she knew it or not, she needed him (213)
77) Because he felt it just holding her in his arms (210)
78) Because they got even (201)
79) Because she accepted his past (207)
80) Because he had his eyes on her (201)
81) Because Andie wanted Officer Witter to give Pacey a hug (222)
82) Because he asked her to kiss him (206)
83) Because they both loved Dumbo! (204)
84) Because he gave her a rose (213)
85) Because that obnoxious pig behavior was sometimes his attempt to flirtation (204)
86) Because they bit the bullet (205)
87) Because she proved to him that he could do anything he wanted (208)
88) Because Officer Pacey came after her (201)
89) Because she did so much for him just by being in his life (210)
90) Because this wasn't a case of "teen romance gone sour" (213)
91) Because she was "a bad, bad influence" on him (209)
92) Because he asked her out politely (205)
93) Because he called her "beautiful" (212)
94) Because Pacey knew what he wanted, he wanted Andie (213)
95) Because he didn't make her nervous, he made her mad and mad beats nervous (202)
96) Because she shut up and let him apologize (215)
97) Because she gave him a magic 8 ball for his birthday (202)
98) Because her sincerity is so appealingly sexy and his sexiness is so appealingly sincere (209)
99) Because Andie was head-over-heals in love with him (211)
100) Because he didn't say a word (205)
101) Just 'Cuz (214)
102) Because she still thinks about Pacey Witter.. wondering what he's doing, if he's happy... (624)
103) Because she was always the first to him (624)
104) Because she always told him exactly what he needed to hear when he needed to hear it (624)
105) Because he thanked her (624)
106) Because it's always worked both ways for them (624)
Pacey: Why do you like me? I'm a screw up, Andie.
I'm thoughtless. I'm insecure. And for the life of me, I cannot understand
why I woman like you would bother to care about me.
Andie: God, I don't know, Pacey, because you're funny and
you're kind and you don't judge people.
You make me feel good about myself.

[x]
"Thank you. Thank you for everything you've given to me.
Thank you for forcing me to be the man you made me.
Just thank you. I am so grateful to you, Andie."

[x]
s o u n d t r a c k
::Click to Listen::
1. Start of Something New - Daughtry
2. Smile - Uncle Kracker
3. Satellite - Tyrone Wells
4. Sad Eyes - Bruce Springsteen
5. Never Stop (Wedding Version) - Safetysuit
6. Gone, Gone, Gone - Phillip Phillips
7. Honey, Let Me Sing You A Song (Acoustic) - Matt Hires
8. Paper Cup - Heather Nova
9. Greatest Lovers - Luke Sital-Singh
10. Red - Tyler Ward
11. She's - Ryan Cabrera
12. Stay - Lewis Watson
13. Photograph - Ed Sheeran
14. Breathe Again - Sara Bareilles

[x]
icons
Credit to: Beatriz






Credit to: Cris




Credit to: CreekBee

Credit to: Xelphia Kenny
top m o m e n t s
Andie: My knees are shaking.
Pacey: My heart, boom-boom, boom boom.
Bustle summary of the Pandie relationship :
Before Joey and Pacey, there was Andie and Pacey and it was amazing. She pushed Pacey to be the best version of himself and Pacey supported Andie as she tried to cope with her mental illness and the loss of her brother. These two kids could banter with the best of them and no matter how much tragedy got in their way, they always managed to maintain a mutual love and respect for one another.[x]
http://1. "Come Sail Away" by Elbell...y/Andie story}
1. "Come Sail Away" by Elbella...Joey rushes to the dock , but Pacey has already left. (My personal favourite Pacey/Andie story}
https://www.fanfiction.net/s/4067485/1/Come-Sail-Away
2. "Kiss Me" by TL22.....An alternate ending to season four with a twist at the end.
https://www.fanfiction.net/s/6643799/1/Kiss-Me
3. "No Amount of Time" by StevieLUVSalex.... StrevieLUVSalex version of the cut scene at the end of season six. Excellent story.
https://www.fanfiction.net/s/6643799/1/Kiss-Me
4. "Thanksgiving".....by TL22...Pacey sailed to the Keys buy Joey came home alone.
https://www.fanfiction.net/s/7578491/1/Thanksgiving
5. "Every Thing Happens For A Reason...by StevieLUVSalex.. An unusual little twist, "Everything Happens For A Reason Part Two needs to be read in conjunction with this story.
https://www.fanfiction.net/s/8434792...s-for-a-reason
6."Every Thing Happens For A Reason Part Two".....by TL22...Needs to be read after "Everything Happens For A Reason.
[URL]http://fanfiction.net/s/8457530/1/Ev...eason-part-Two
8. Her Knight...by Kat Lee.....A nice piece of fluff.
https://www.fanfiction.net/s/8495538/1/Her-Knight
9. "Springsteen"...by makesmyheadspin....Pacey and Andie run into each other at the airport after many years.
https://www.fanfiction.net/s/8717775/1/Springsteen
10. Lost in Love.....by Kat Lee. A little snippet Just read the last paragraph.
https://www.fanfiction.net/s/8933733/1/Lost-In-Love
11. "One Card...by Kat Lee....A nicely written story.
https://www.fanfiction.net/s/8933741/1/One-Card
12. "Finding True Love".....By TL22....Pacey and Andie meet in the future, In a very unlikely place. Spain
https://www.fanfiction.net/s/6264810...ding-True-Love
13. "Fate Is The Hunter".....by TL22..... Pacey and Andie remember what they mean to each other
https://www.fanfiction.net/s/9279241...-is-The-Hunter
14. "It Will Always Be You".....by.....izzieKRV.....Written from Pacey's point of view.
https://www.fanfiction.net/s/1070009
15. Stay.....by Speedychatterbox.....An alternate ending to season two.
https://www.fanfiction.net/s/10696664/1/Stay
Previous Thread ~ #104
Related News: