Stalkers [Ben/Ryan] #60 ~ Because who could resist those puppy dog eyes
:star: Welcome to the Ben McKenzie/Ryan Atwood Appreciation Thread :star: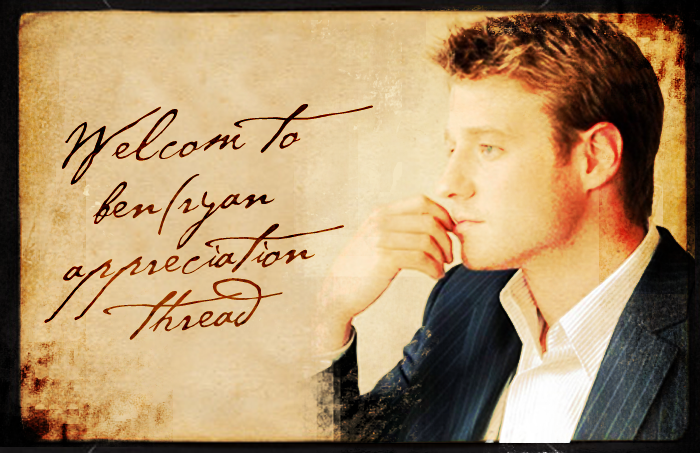 Banner by: tina
Ben Fan sites:
benjamin-mckenzie.org
Benjamin McKenzie France
Completely-Ben
Ben McKenzie Fan
Ben Addicted
Ben Pix Central
Ben Support

Banners by: tina
The Golden Rules
1. No bashing Ben, Ryan, or any of Ryan relationships.
2. This is not the Adam, Rachel or Mischa thread, so do not go off subject.
3. Be friendly to your fellow Stalkers.
4. Just enjoy yourself and your love for Ben/Ryan.
Stalkers (aka..Ben's #1 Lovers)
1. Ice Queen Follower
2. southside
3. ScorpioGrl
4. Kat*EyEz
5. Lyndsi
6. SARS&AIDS
7. *Shannon*
8. *Stephie*
9. .one.ray.of.sunlight.
10. Caro84
11. mysti
12. The Christmas Nazi
13. Floegirl
14. FieryAngel
15. Eyes_only4_Behr
16. *Ledi*
17. Atti's Angel
18. I3rown Eyed Girl
19. Niffler
20. White Lady of Rohan
21. GodsGirl4Life
22. aerocutie31
23. DaWsonSReaLJoEy
24. beautyisskindeep
25. Angel_Demoness
26. tina beana *
27. cheerchickie17
28. ~*Carrie*~
29. * Diane *
30. Kawaii_Jay
31. Kelly_mvpics
32. crazy4TheCalling
33. Andrea D
34. Sick And Twisted
35. kischa
36. SoloxSoul
37. Rock Chickie
38. Liliya
39. *~oRlAnDo's GuRl~*
40. ~*Brianna*~
41. Kayley
42. HyperBitch
43. dixieland_dreamer
44. Tess Shipper Whore (Aleah)
45. BeachBabe101
46. BenDreaming
47. punkmusicc
48. samgeller
49. Anica
50. Lady Dragonair
51. KaLiPinAy23
52. Callalily
53. JacquiJack
54. LuckyStar23
55. xxlisaxx
56. katesuperstar
57. Manda105
58. XoCmMoX
59. detheo
60. YankeeChic21212
61. Konstantine23
62. dayblazes
63. Vivianaley23
64. True Daisy lover4ever
65. MeganMila
66. *Stacy*
67. Roswelldesertsky
68. ~Anto~
69. Cristofle
70. CreekFreak
71. septemberose
72. ~Courtney~
73. Seth's Secret Sister
74. tru-calling4eva (Tezza)
75. octobersmoke
76. FlyingHigh25
77. Shadowgirl17
78. *Cosmo*
79. ryanforever
80. Crazed_Fan
81. ~Paradise~
82. chandlerbingfan
83. BreathofJasmine
84. BenMcKenzieAlways
85. Kait
86. -Delilah-
87. piscesgirl389
88. Erica_85
89. martystel
90. Jackie85
91. JVDBFan20
92. -cuckoo bananas-
93. BeaSugarman
94. ~Melissa~
95. JJM_7
96. JVDBFan20
97. Ryan-Marissa<3
98. tooty
99. -Beautiful Disaster-
100. Leyton_Rox
101. RySummLove
102. unfloopy_
103. #*$@Tessa@$*#
104. illyria_girl
105. Rachel_89
106. loveben
107. Saralou
108. Erin loves theoc
109. Styx
110. Elyx
111. "You'reMyLittleSnowAngel"
112. cheery_brucas
113. GretchenPie
114. Lisa2011
115. Kelly_Dylan
116. Cassie.
117. xsweetnightmarex
118. callieUK
119. swedish_girl80 (Hanna)
120. martha(brucas&jeyton)
121. Natasja1982
122. Sweetgirl465
123. ManhattanBabe
124. bumbleDEE
125. Nessa233
126. bengirl25
127. JamieScott
128. Mimmie
129. Priya
130. Pan
131. iheartTV
132. Brucas_Is_Love
133. ~tammy~
134. lovejonathanjackson
135. slicknickshady
136. ant31
137. NewOCFan
138. foreveryoung20
139. maverick721
140. grahad8
141. RM&SSforever
142. sexydidi16
143. HaleyJamesFan
144. Cosmic Love
145. McQueenFanGirl
146. beachbum314
147. dcfriends
148. PetrificusTotalus
149. lilylovesrufus
150. Sara Caffrey
151. Suddenly Enlightened
152. AlyssaHP88
153. xoloveJBox
154. Allsmiles7282
155. loganandroryforever
156. Ankatje
157. Sixonxnavade
158. raphi1860
159. ravengirl08
160. DuVe2LoVe
161. cyndie577
162.||michelle||
163. sourburst
164. Dairfan21
Reasons we LOVE Ben::
1. 'Cause he's an intense actor.
2. 'Cause he does his own stunts on Southland.
3. 'Cause he's real.
4. 'Cause he has loads of charisma.
5. 'Cause he volunteers his time to helping others.
6. 'Cause he was president of National Honor Society.
7. 'Cause he played football with Drew Breese.
8. 'Cause theater is his first love.
9. 'Cause have you seen his dog, Oscar?
10. 'Cause he becomes good friends with almost everybody on the set.
11. 'Cause he's not afraid to audition for challenging roles.
12. 'Cause he can convey it with a look.
13. 'Cause have you seen him SHIRTLESS?
14. 'Cause he gives good lip.
15. 'Cause his eyes are breathtaking. Gah.
16. 'Cause he's smart.
17. 'Cause his voice is the sex.
18. 'Cause he loves to travel and learn about other cultures.
19. 'Cause he likes to cook.
20. 'Cause he saved his neighbor's son's life.
21. 'Cause he loves his mama. :]
22. 'Cause he's down to earth.
23. 'Cause he takes shots with fellow fans.
24. 'Cause he was singing along to The Killers.
25. 'Cause he cares about the work more than the money.
26. 'Cause he wants to be a serious actor.
27. 'Cause he's hilarious on-set.
28. 'Cause he likes to make fun of himself.
29. 'Cause he liked who he was before.
30. 'Cause he makes the older ladies say, "If I was just 20 yrs younger".
31. 'Cause he's the heartthrob on the show.
32. 'Cause there's nothing better than Wet!Shirtless!Ben!
33. 'Cause he looks hot in a hoodie.
34. 'Cause his smile makes you melt.
35. 'Cause we loved his speech at the Democratic National Convention.
36. 'Cause he's got a great sense of humor.
37. 'Cause he laid on the bed...shirtless and we thanked him.
38. 'Cause he's straight forward, he goes for the boobs and the ass.
39. 'Cause he makes a simple t-shirt and jeans look HOT.
40. 'Cause his southern accent is adorable.
41. 'Cause only he can pull off the mustache. LOL.
42. 'Cause it's totally his show!
43. 'Cause he makes the most adorable expressions.
44. 'Cause he loves the nose graze.
45. 'Cause he makes combat boots look sexy.
46. 'Cause he's articulate.
47. 'Cause he's educated...and that makes him hotter.
48. 'Cause he has the cutest sarcastic, dry humor.
49. 'Cause he plays pranks on-set.
50. 'Cause he steals wifebeaters from the set.
51. 'Cause he cares about other people's property.
52. 'Cause he feels like 'Zach Braff'.
53. 'Cause to see him on the big screen is pure heaven.
54. 'Cause "Ben, what's wrong?"
55. 'Cause he even looks hot in plaid and flannel shirts.
56. 'Cause he'll reduce you to "gah's, aww's, so cute's, adorable's and *thud*.
57. 'Cause he's still a "loser even though he's a winner."
58. 'Cause he's passionate about his work.
59. 'Cause he's not a publicity whore.
60. 'Cause he has perfect teeth.
61. 'Cause when he read the script of 'Junebug' it made him cry.
62. 'Cause he's nice to the press.
63. 'Cause "Le Newport Beach, Le Newport Beach!"
64. 'Cause he wears as much clothing as possible at the beach.
65. 'Cause he's a dog person.
66. 'Cause he wants a girlfriend on a Saturday night and a dog on a Sunday morning.
67. 'Cause he has perfected the forehead touch.
68. 'Cause on Regis and Kelly, he made the most adorable "mmah"" kissing sounds.
69. 'Cause he's hot...did we say that already?
70. 'Cause you need a dictionary to describe him when you run out of words.
71. 'Cause have we mentioned THE HAIR!?
72. 'Cause he has amazing facial features. The cheekbones. Gah.
73. 'Cause he's finally wearing shorts to show off those sexy legs of his!
74. 'Cause he gives the most adorable pout.
75. 'Cause he says what's on his mind.
76. 'Cause "Holy ****, the monkey's are talking!"
77. 'Cause he's private.
78. 'Cause he's self-deprecating.
79. 'Cause he helps people with their bags on the subway train!
80. 'Cause he's great friends with Paul Wesley!
81. 'Cause he's in support of Arts Education in Public Schools!
82. 'Cause he stands up for what he believes in.
83. 'Cause he lobbied congress in support of rescuing a little boy from Uganda via Invisible Children.
84. 'Cause he runs workshops for inner city youth.
85. 'Cause he spoke at the Democratic National Convention next to Maya Angelou!
Our Favorite Ryan FanFiction Stories
1. Seventeen
2. The Hart Break
3. Fathers and Sons
4. A Hard Knock Life
5. The Chino
6. The Reno
7. Last Summer
8. Bad Behavior
9. Heading For Disaster
10. Hangin' Tough
11. Hello, Ryan!
12. Facing the Past
13. Fading
14. Best of Intentions
15. The Lesson
16. The Choice
17. A Week Before Cohen
18. Bang
19. Laying Flowers

Made by: Michal
Reasons We LOVE Ryan::
1. Because he gave the show heart.
2. Because he's a kid with the soul of an adult.
3. Because he couldn't change where he was from, but he changed where he was going.
4. Because he was such sweet, caring, protective boyfriend!
5. Because we love that slow, gentle Ryan Atwood love making!
6. Because he's sexy with tools in his hands.
7. Because nobody looks better in a wifebeater.
8. Because we love those deep, soulful dark blue eyes.
9. Because he looks sexy in a construction workers outfit.
10. Because he was self-aware and always looking to improve himself.
11. Because he can say a lot without even having to speak.
12. Because he saves it for when it counts.
13. Because we love his deadpan humor.
14. Because nobody glares better than Ryan Atwood.
15. Because do not insult Journey!
16. Because he's proof that chivalry is not dead.
17. Because he knows how to treat a woman.
18. Because peaches are his favorite fruit.
19. Because he's a loyal friend.
20. Because we love guys who play soccer.
21. Because he did musicals and Snoopy was always our favorite from Charlie Brown.
22. Because you know what he liked about rich kids? *BAM* Nothing!
23. Because he always put family first.
24. Because we love his shy demeanor.
25. Because he can kick some ass.
26. Because punching the bag was his therapy.
27. Because we love Kid Chino and his fists of fury.
28. Because he was a dedicated student.
29. Because UC Berkeley is our dream school.
30. Because we love angry!Ryan.
31. Because the Cohens couldn't have asked for a better foster son.
32. Because he always tried to do the right thing even when it hurt.
33. Because he was willing to make sacrifices for others.
34. Because he put up with Dawn Atwood and her abusive boyfriends for all those years.
35. Because despite everything that happened, he still loved his brother, Trey.
36. Because he forgave his dad.
37. Because he has a good poker face.
38. Because he's a good hustler and a great bluffer.
39. Because he challenged Caleb to a pool match and won.
40. Because he was afraid of heights.
41. Because he likes Steven Segal.
42. Because he was a great listener.
43. Because we love his pragmaticism.
44. Because we want a spin-off of The OC featuring Ryan and his bunny, Flapjacks.
45. Because he doesn't use drugs or alcohol to deal with his problems.
46. Because when others would have given up, he chose to overcome adversity.
47. Because he exemplifies what it means to persevere.
48. Because he's not afraid to die.
49. Because he's strong and courageous.
50. Because it was hard for him to unload on people, but with time he learned to open up.
51. Because his half smile makes our hearts melt.
52. Because every time he caressed one of his girlfriends, we wished it was us.
53. Because he's manly!
54. Because we love seeing how much he evolved on the show.
55. Because he liked his coffee black and his cereal dry.
56. Because he was wounded, and Summer could save him!
57. Because he loved math and physics.
58. Because he loved to read.
59. Because he used running as a means to relax and cope with his problems.
60. Because he loves to stay in shape!
61. Because even the Nana thought he was hot!
62. Because he looks hot running on the beach.
63. Because what girl wouldn't want those strong arms wrapped around them?
64. Because who could resist those puppy dog eyes?
65. Because he mentored a troubled youth just as Sandy had mentored him.
66. Because he's selfless and thoughtful.
67. Because he's deep.
:star:S1 Moments :star:

:star: S2 Moments :star:

:star: S3 Moments :star:

:star: S4 Moments :star:

Ryan Gif of the Month

Our favorite Ryan video::
Watch Ben on Southland!


Ben's happy you could make it!
Related News: