Paul's Twitter/Instagram/Facebook Thread #35: Because Paul tends to go radio silent on us!
At exactly 4:11 p.m. PST on March 14, 2011,
the skies cleared, dolphins leaped into the air, and enemies joined hands in friendship.
Paul Wesley
officially joined twitter!
2,815,032 followers and counting!
Paul Wesley Board Twitter
No one can deny it. Our man's the real deal!@paulwesley is verified!

Ting, ting, ting!

Number of Followers
As if he needed any more introduction...

Did you see pigs fly too?
Old friends come out and play
The 'Vampire Diaries' Cast Talks Twitter & Who Convinced Paul Wesley to Tweet (VIDEO)
Wetpaint: Heavens, Rejoice! Paul Wesley Joins Twitter
ThinkHeroTV: Paul Wesley From The Vampire Diaries Joins Twitter

CREDIT

CREDIT
May 22nd 2013 Paul tweeted a picture of himself and Ben McKenzie

May 26th 2013 Paul reached two million followers

November 4th 2013 Paul made the most important tweet ever - according to Raguoc

June 1st 2014 Paul reached three million followers

April 25th 2016 Paul reached four million followers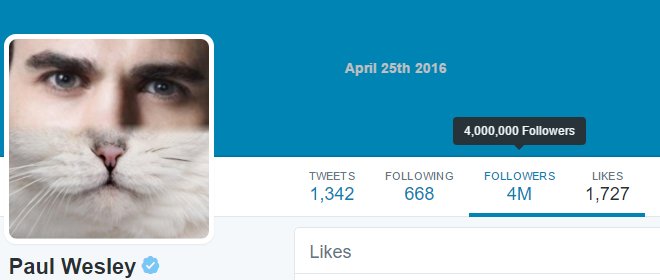 Paul's sister replies to the board account
Paul favourited a tweet by our Twitter account on March 15th 2014

Paul favourited a tweet by our Twitter account on April 15th 2014

Paul favourited a tweet by our Twitter account on May 27th 2014

Paul followed our Twitter account on December 9th 2014


Twitter convo with Paul February 14th 2015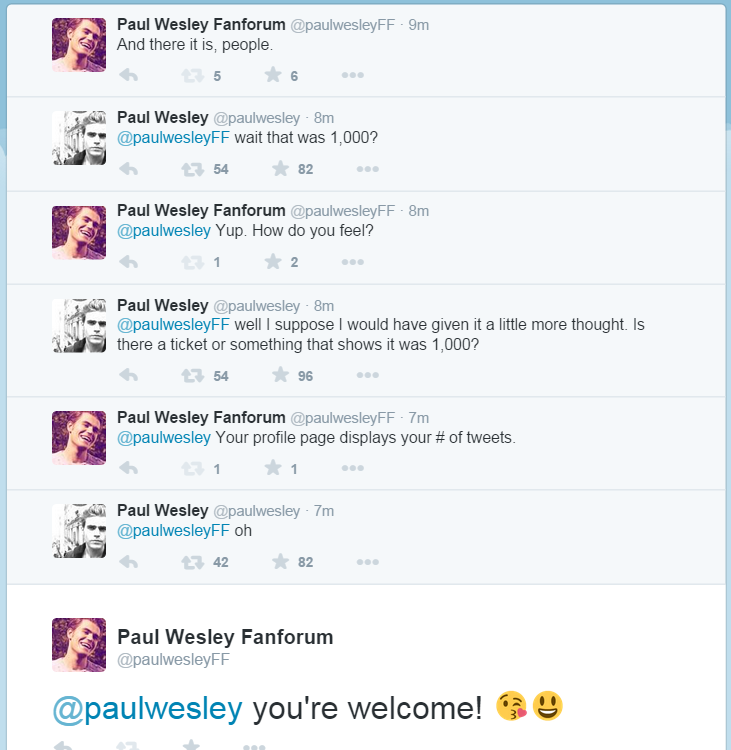 When Paul reached 4 million followers on Twitter April 25th 2016

Paul liked a tweet by our Twitter account on July 24th 2016

past threads
1 ♥ 2 ♥ 3 ♥ 4 ♥ 5 ♥ 6 ♥ 7 ♥8 ♥ 9 ♥ 10
11 ♥ 12 ♥ 13 ♥ 14 ♥ 15 ♥ 16 ♥ 17 ♥ 18 ♥ 19 ♥ 20
21 ♥ 22 ♥ 23 ♥ 24 ♥ 25 ♥ 26 ♥ 27 ♥ 28 ♥ 29 ♥ 30 ♥ 31 ♥ 32 ♥ 33 ♥ 34
Related News: